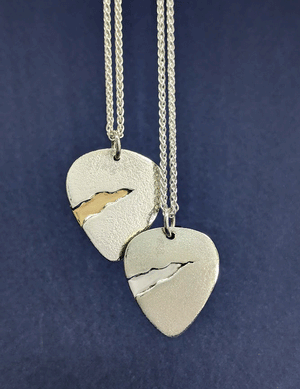 claireguinan.com
Anthem Pendant
Sale price Price $149.87 Regular price Unit price / per
This piece in inspired by the beautiful words of Leonard Cohen
.
"There is a crack in everything, 
That's how the light gets in"
.
A plectrum, hand pierced in silver with a small crack detail. 
.
The pendant comes in two options:
with silver detail and 9ct yellow gold detail.
.
The plectrum has a matt finish to emphasize the light that shines in.
This beautiful pendant hangs on an 18 inch chain.
.
The plectrum measures 2.3cm approx.
.
Each piece is handmade so size and crack may vary.
No two pieces are the same.